Name:

Bladet Jet Towel Hand Dryer TH9922H

Material:

Anyi-bacterial ABS Plastic

Drying Time:

7-10 s

Air Speed:

75-100m/s (Adjustable)

Voltage:

AC200-240V, 50/60Hz

Rated Power:

1000-1300W (Brushless DC Motor)

1250-1650W (Carbon Brush Motor)

Heating Power:

550W (PTC Heater)

Motor Rate (RPM):

11000-23000

Noise Level:

Min 65db to 69 db@1m

G.W:

9kg (Carbon Brush Motor)

11kg (Brushless DC Motor)

Packing:

1pcs/carton

Product Size:

670H*300L*219W (mm)

Packing Size:

730H*370L*290W (mm)

Waterproof Rate:

IPX 4

Certifications:

CE ROHS, EMC LVD

*Open-side Design:The dryer is open on both sides, enabling easy hand access from the side without touching the unit.
*Upper and Lower Operation: The New Slim Type is equipped with a "Child Sendsor" further enhancing operation ease.
*Antibacterial Treatment: All parts susceptible to coming in contact with water, are subjected to antibacterial treament to ensure highly sanitary conditions.
*Independent Air Ducts, Cleansable Water Drainage Duct.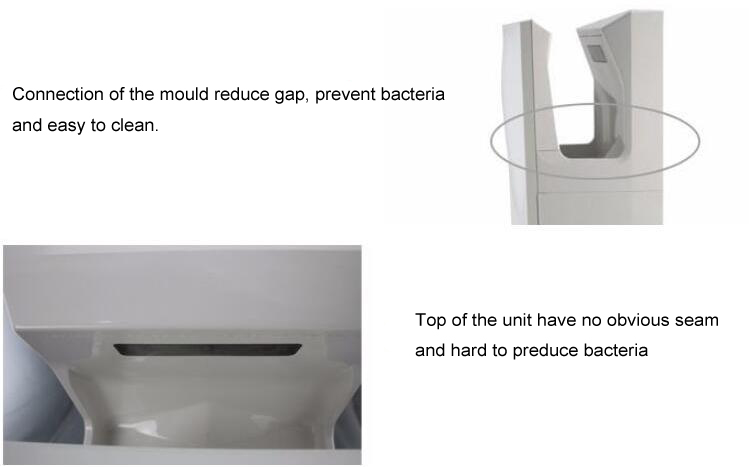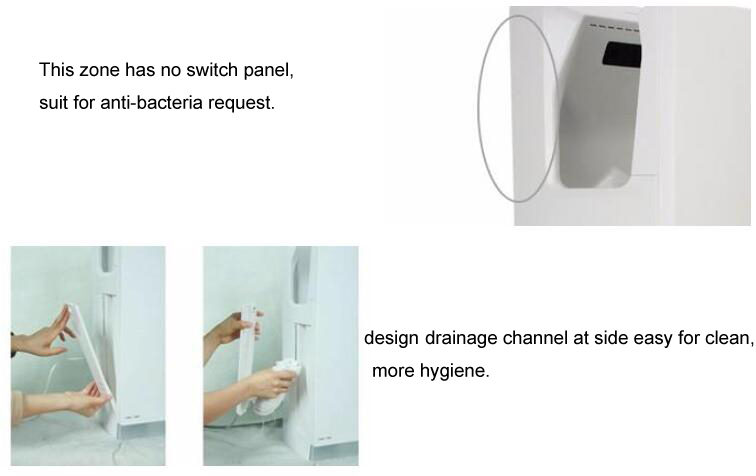 1.Hotel: to give your customer better and more comfortable service.
2.Home: to give your family more healthy hands and save money in tissue purchase .
3.Shopping mall: to give yours customers good impressions on nice toilet, then maybe increse customers flow.
4.Laboratory: to reduce bacteria in your hands so that make your science more accurate.
5.Service station: to give people more comfortable service so that relax them.
6.Office building: to give your staff healthy and comfortable working environment.
7.Airport, subway station, railway station, motor station and so on.
8.Hospital:to reduce growth of bacteria.